Design Your Future
In SEDTAPP, we are designers. We are leaders. We are entrepreneurs. We are humanitarians. We are technologists. We are educators. We are researchers. We are engineers.
Our graduate offerings are unique and so are we. We provide students with unrivaled opportunities. We encourage our students and faculty to think outside of the box — in their courses, their research, and their service. We collaborate, across engineering disciplines, throughout the University, with colleagues at other colleges and universities, and with industry professionals, in order to constantly innovate and educate.
From the moment you step on campus, we support you in your journey, as you Design Your Future.
Alumni Spotlights
Hear about the journey some of our alumni have taken after completing their graduate degrees in engineering design and engineering leadership and innovation management.
Engineering Design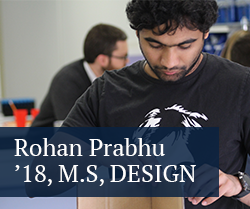 Engineering Leadership and Innovation Management