Engineering Technology and Commonwealth Engineering
Mechanical Engineering Technology
The Mechanical Engineering Technology (MET) degree program offers structured exposure to technical areas such as computer-aided drafting (CAD), computer-aided manufacturing (CAM), robotics, materials, product and process design, and machine design. The program includes two tracks—a two-year associate degree (2MET) and a four-year bachelor's degree. 
Graduates of the 2MET program become engineering technologists who work as machine, product, and process designers; computer-aided drafting and design (CADD) operators; personal computer integrated manufacturing specialists; planners; technical salespeople; production supervisors; laboratory technologists; and managers. Graduates of the 2MET program may also pursue a four-year degree program in mechanical engineering technology (4MET) or electro-mechanical engineering technology (EMET). 
Graduates of 4MET are prepared to assume responsibility for the development and evaluation of machines and mechanisms; development, organization, and supervision of manufacturing processes and procedures; the instrumentation, control, and testing of a process; quality control; technical marketing and sales; design of mechanical systems for heating and cooling; and energy management. The strengths of the program include hands-on training; extensive laboratory experience; state-of-the-art computer methods; and good job placement.
The MET program is accredited by the Engineering Technology Accreditation Commission of ABET, www.abet.org. 
The 2MET degree is offered at the following locations: Penn State DuBois; Penn State Erie, The Behrend College; and Penn State York. The 4MET degree is offered at Penn State Harrisburg, The Capital College. 
Program Educational Objectives
Graduates of the MET associate degree program will:
Practice in the areas of applied design, manufacturing, testing, evaluation, technical sales, or 2D and 3D modeling
Communicate effectively and work collaboratively in multi-disciplinary teams
Learn and adapt to changes in a professional work environment
Demonstrate a high standard of professional ethics and be cognizant of social concerns as they relate to the practice of engineering technology
Student Outcomes
To support the achievement of educational objectives, the following student outcomes were established for the 2MET program. Students graduating from the 2MET program will:
Be able to apply the knowledge, techniques, skills, and modern tools of mechanical engineering technology to narrowly defined mechanical engineering technology activities
Be able to apply a knowledge of mathematics, science, engineering, and technology to mechanical engineering technology problems that require limited application of principles but extensive practical knowledge
Be able to conduct standard tests and measurements, and to conduct, analyze, and interpret experiments
Be able to function effectively as a member of a technical team
Be able to identify, analyze, and solve narrowly defined engineering technology problems
Be able to communicate effectively regarding narrowly defined mechanical engineering technology activities
Be able to recognize the need for and an ability to engage in self-directed continuing professional development
Demonstrate an understanding of and a commitment to address professional and ethical responsibilities including a respect for diversity
Demonstrate a commitment to quality, timeliness, and continuous improvement
Additional program-specific criteria for 2MET:
The application of applied mechanics, computer-aided drafting/design, experimental techniques/procedure to the fabrication, test, operation, or documentation of basic mechanical systems
The application of physics or chemistry to mechanical systems in a rigorous mathematical environment at or above the level of algebra and trigonometry
Enrollment in 2 MET Program

| Program | Campus | 2019-20 | 2020-21 | 2021-22 |
| --- | --- | --- | --- | --- |
| 2MEB* | Erie | 29 | 20 | 18 |
| 2MEB* | Other | 1 | 0 | 0 |
| 2MET | DuBois | 13 | 13 | 13 |
| 2MET | York | 9 | 9 | 10 |
Degrees Awarded in 2 MET Program

| Program | Campus | 2018-19 | 2019-20 | 2020-21 |
| --- | --- | --- | --- | --- |
| 2MET | Erie | 16 | - | - |
| 2MEB* | Erie | - | 12 | 8 |
| 2MEB* | Other | 1 | 1 | 1 |
| 2MET | DuBois | 10 | 11 | 3 |
| 2MET | York | 2 | 4 | 2 |
*2MEB is 2MET at Penn State Erie, The Behrend College effective spring 2019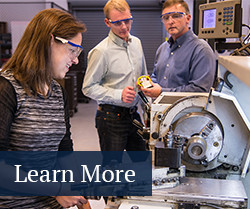 ---
Contact Information:
---